jshirls3 wrote:
Whatever barner thinks they will win this game easily needs to learn alot about football. Au was a pick 6 from losing to Ole Miss; who Bama shutout. They were toe to toe the entire game with a declining a&m team. Bama was two yards from blowing them away(dunno why media suggests that was a close game). Bama played terrible against Miss St. and won by two possessions. The barn had to have a last minute drive just to win the game. The barn got curb stomped by an Lsu team who rolled over in the 2nd half; Bama dominated them. Georgia? Hahahaha. Celebrating against a severely beat up team who lost to VANDY. That was an embarrassment that it was even a game. The barn has confidence in their favor like they have all year which is a big deal. They think they can come in and knock Bama off which will go a long way. At the end of the day Bama is a much better all around team and unless there is several fumbles(which is likely) Bama should win comfortably. Roll Tide! 33-24
This kind of logic baffles me. It is almost impossible to compare performances against common opponents these days, especially with differing styles of offense/defense. I mean, by this logic, what does that say about LSU when Ole Miss beat them, but you shut Ole Miss out. Then, LSU hands Texas A&M their worst loss of the year, a lot worse than Auburn or Alabama did. It really tells you nothing except that some teams play inconsistently from week to week. What you should look at is which teams improve from week to week, who has the ability to adjust in-game, and how they handle high pressure situations. I think all of those are more accurate measures of a team. And Auburn has done all of them well.
First off, the MS State game was our first SEC game and we had not even really got our run game established yet. Same for LSU. Not to mention it was at night in Baton Rouge in a monsoon. The first half we struggled in the rain losing a key receiver to an ACL injury as well as two fumbles. We played lights out in the second half and almost won. We didn't really establish our offensive identity until the Ole Miss game. Both of these point to a team that never gave up and fought back. One they won and one they lost. However, since the Ole Miss game, they have improved every single week, they have won some tough road games (Texas A&M) and cruised through others in dominant fashion (Arkansas, Tennessee). Auburn has shown the ability to improve every single week, make outstanding half-time adjustments to play even better in the 2nd half (minus the anomaly versus UGA, which was nowhere near the same team Vandy played), and most importantly they never count themselves out. They believe they can win every game and they can.
Now for the real logic. Alabama is by far the better football team. They are excellent both on offense and defense, they're a complete team. Auburn is VERY good offensively. I think Auburn's offensive schemes will match up well with Bama's defense, and it will be a fun chess match to watch. Auburn is good defensively, but does have holes. The defense is actually pretty decent in the secondary and pretty stout on the line, it's the linebacker positions where our true weakness lies. Bad match up for Alabama's running game. As for special teams, I think Auburn has a slight edge there. By God we're going to have good kickers.
With all that said, I think that Auburn will have to play lights out and have their best game thus far to win, and even then it will be close. They can have no turnovers, must run the football successfully and will need to get pressure on McCarron, consistently to win.
Also, Malzahn knows that Saban loves to steal play calls for the opposing team. He's truly from the Belichick mold in that regard. That shutout vs. Ole Miss, yea, that's only because their former coach who now works for UA was in the booth basically telling Kirby Smart what they were about to run.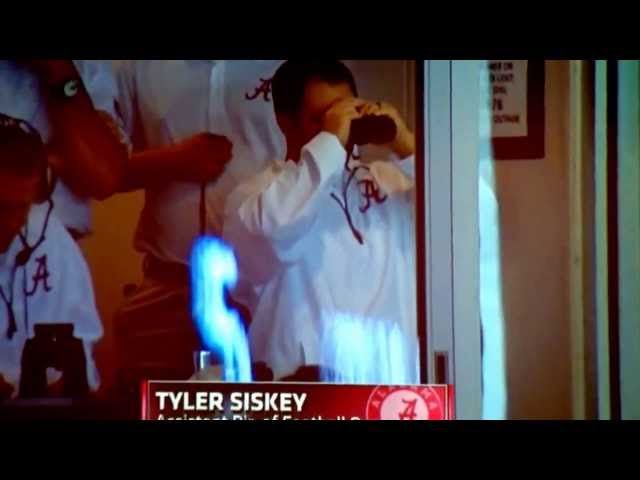 Same goes for the LSU game. Alabama was dominated that first half, until they were able to figure out LSU's play calls and adjust accordingly in the 2nd half, and well, you saw the difference. This isn't necessarily illegal, so I'm not implying wrong doing on Saban's part, but rest assured, Gus knows this and will plan accordingly, so they will not have that advantage over Auburn.